Meet Canada's next Kyle MacDonald

FOR IMMEDIATE RELEASE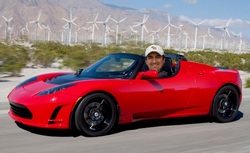 Toronto, Ontario, March 15 -- Swapsity is teaming up with one Canadian barter enthusiast to help him make the trade of his life.

Ottawa resident Martin Provost is on the road to becoming the next Kyle MacDonald but instead of swapping his way from a paper clip to a house, he is turning a used camera into the car of his dreams. With Canada's premier bartering community behind him, Martin plans to trade his way to a battery electric Tesla Roadster convertible. The eco-friendly vehicle combines Martin's two passions: technology and living green. He plans to carry these themes throughout his barter journey by trading tech and eco-gadgets, from computers to solar panels and more, until he finally trades for his ideal green machine.
"This is the ultimate electric exotic and every green or tech geek's dream car," says Martin. "I think this car also sets an example of where the car world should be heading."
A car enthusiast, Martin had long dreamed of owning the green vehicle but, with a young family, he knew he would not be able to buy it the traditional way. Inspired by Kyle MacDonald's amazing barter success, Martin decided to start swapping. He began with a Minolta Maxxum SLR camera, traded it for a TalkSwitch phone system and, after a live interview on CBC radio, was offered an HP Pavilion desktop computer. Now that computer is up for swap on Swapsity and Martin is eagerly awaiting his next deal.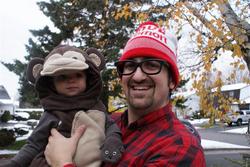 In addition to supporting Martin's efforts, Swapsity has created a virtual hub where fellow swappers can track his progress, submit barter offers, post comments and cheer him on. Says Marta Nowinska, Swapsity founder, "We're inspired by Martin's passion for swapping and the environmental intentions behind his quest so it was natural for us to team up and help him get behind the wheel of this planet-friendly car, all on barter."

To become part of this epic swap and help Martin barter his way to the car of his dreams, visit www.swapsity.ca/tradeup.
About Swapsity: Swapsity is a consumer bartering community that helps eco-friendly and budget-conscious Canadians go green through barter. The Toronto-based site facilitates online exchanges of items and skills between members. Visit us at www.swapsity.ca to learn more about our community.
For media inquires, please contact us at tradeup@swapsity.ca.