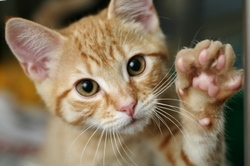 For cat owners and condo neighbours, Dorothy and Susan, a Swapsity group has led to the perfect pet care arrangement.

After Dorothy offered cat-sitting services, Susan, a fellow cat lover, proposed a pet care swap. They talked it over and have come up with their own unique barter arrangement. In case one of them has to be away, whether on a trip or for an emergency, the other will provide three short visits per day to feed their neighbour's pet, change the litter box and provide some TLC.
Dorothy and Susan have also agreed on a few details to keep the trade fair. If the balance gets lopsided and someone ends up cat-sitting more than the other, they'll switch to a per-session payment system until it evens out. It's a negotiation that both neighbours can be happy with and goes to show that there is always room for a little creative tweaking in any swap arrangement.
"While I don't plan on being away from my boy, unexpected emergencies can arise requiring my absence", says Dorothy. "I am thrilled with having found someone who would be willing to take on short-term care in the event I have need of the service".
Now they can relax when they have to be away, knowing their beloved pets are being looked after by a fellow cat-lover who lives just steps away.