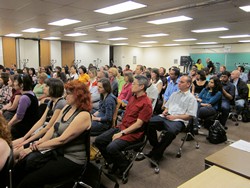 Can you live happily without money? What happens when money is taken out of the equation? That's what more than a hundred eager viewers asked themselves at our Toronto screening of the documentary 'Living Without Money'. Attendees turned up in high spirits last Thursday to find out how Heidemarie Schwermer, Germany's ultimate barter enthusiast, has lived a cashless life for the past 14 years. The room was buzzing with conversation even before the movie started.
One of the attendees, Kimberly, found Heidemarie's lifestyle inspi rational. "It's very liberating even just to think for a moment about money as being 'optional', even in today's modern society. It's so completely opposite to our cultural influences of advertising and popular media," she says. "I really admire her example of taking only what she needs and nothing more, even when there is an unlimited amount available for the taking. She does this with the inner knowledge that whatever she needs in life will come to her."
Fellow guest Danie walked away inspired to make changes in her own life. "I have been motivated to take a long look at all my belongings and really start to pare down," she says, adding that too much stuff can slow us down and control us. "The woman in this film was completely free, free of burdens, free of control, and I aspire to get somewhere closer to this freedom."
The film changed perceptions for attendee Chris, who found himself energized and looking inward. "For the first time, I actually took stock of myself," he says. "What can I offer? If money was no longer necessary, what skills and services could I barter with other people to get the stuff I want? And from there, why do I really want all this stuff? What am I looking for outside myself? These are the kind of questions we should be asking ourselves often, and this movie sparked them well! I recommend it to everyone I know."

Want to find out more about 'Living Without Money'? Check out our previous blog post on this inspirational film.
Attendees also earned some eco-karma by participating in our DVD swap, which saw more than 75 pre-loved movies being recycled and satisfied swappers adding new films to their media libraries without spending any money. Emmanuel, a passionate movie blogger, was excited to take home Dogma, Transsiberian&n bsp;and Las Peregrinas. He says, "It was extremely fun to watch how happy other people were in finding new DVDs they wanted. They were finding treasures from other people's junk!"
After the movie, a group stayed behind to discuss Heidemarie's journey, weighing in on what they thought of the film, how it changed their outlook and what they learned from it. The group also took turns sharing what skills they had to swap, from soccer lessons to Kensington Market tours. It was an eye-opening experience that made everyone realize just how much they had to offer.
For Chris, the event was a rewarding introduction to Swapsity. He says, "It is such an incredible concept and gets us thinking on a 'values' level, as opposed to money. Ultimately, I do think we are moving more towards a more communal, barter way of life, and things like Swapsity that get us thinking in new, innovative ways are definitely part of the solution on Earth."
Thanks to all who came to the screening. We hope you enjoyed it!