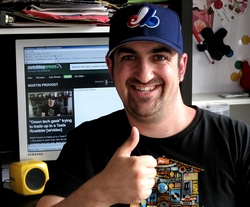 With his sixth swap behind him, Martin Provost's barter mission is in high gear. Not only did he get featured on his favourite blog, he's just multiplied the value of his first swap by 100. To date, Martin has leapt from a $30 used camera to a $3,000 online store package. This seventh item also fulfills his goal of keeping a green or tech focus on each swap.

"I feel like I'm on top of the world right now," says Martin. "I started this project not really knowing how far I would get and never thought that I would get where I am so fast. I'm absolutely grateful for all the great support I am getting from my family, friends, coworkers and absolute strangers."

Martin was thrilled to find himself, and his collaborati on with Swapsity, making headlines on AutoblogGreen, a site he checks daily. The eco-friendly auto blog featured his quest to "buckle himself into the driver's seat of a Tesla Roadster" and wished him the best of luck on his challenge, calling his progress "impressive" and adding that they're excited to see what will happen along the way.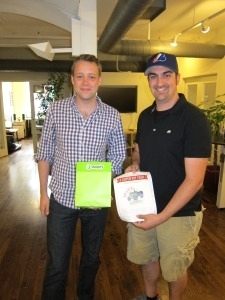 The AutoblogGreen article was just the icing on the cake for Martin, who was already in the midst of trading for his seventh item with Mark Hayes from Shopify. Martin traded a VIP brewery tour for 45 people for a Shopify 12-month online store package. It was a win-win for Martin, who more than doubled the value of the organic brewery tour, and Mark, whose staff was thrilled with the idea of a tour and tasting at Beau's All Natural Brewing Co. "We had all 45 spots filled within an hour of sending out an e-mail to the company," he says. Both Martin and Mark had a blast striking their deal together and Mark is sure his swap partner's quest will be successful, saying, "I have no doubt that he'll be able to reach his goal of a Tesla Roadster."

Are you or someone you know in need of a fully featured online store? Want to minimize your green business' carbon footprint by taking it to the web? This package will have you well on your way to setting up your own online store—no technical know-how needed! Martin is open to any interested trades but is hoping for a rare or unusual experience or something green or tech related.

Reach out, strike a deal and get your business, and Martin's mission, rolling