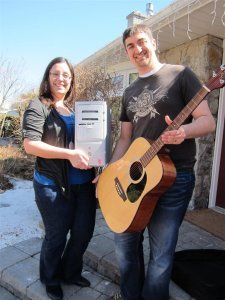 It's been another amazing week for Martin Provost. In our last update, we told you about Martin Provost sharing his mission to barter his way to an eco-friendly sports car with television audiences across Canada and now he's ready to make his fourth trade! He got a little closer to his barter goal by trading an HP desktop computer for a Jasmine by Takamine S33 acoustic guitar with Maria. The guitar is currently up for auction of Swapsity.

The highlight of Martin's week was a ride in his dream car, a Tesla Roadster convertible. Doug, a Tesla owner, heard about Martin's quest and offered him a ride to remember. Martin didn't hesitate to hop in and experience the green's automobiles features. Says Martin, "The best part of the ride? Zero emotions, zero pollution and zero gas! Doug told me that he spends about $30 per month in hydro to charge the Roadster—that's daily driving." Check out a video of the ride here:
Martin also got another chance to spread the word about his incredible quest with an interview on The Green Majority radio show on Toronto's CIUT 89.5 FM. Now he's ready to make another trade—a Jasmine by Takamine S33 acoustic guitar. Want to hear the instrument in action? Martin asked his friend Jordan Zalis, from the band The Rhys Williams, to give it a try. Take a look here:
To track Martin's progress, make a swap offer or cheer him on visit www.swapsity.ca/tradeup.