It has now been a little over two weeks since the launch of Swapsity and we are extremely excited by the enthusiasm of our growing community of swappers. It has given us great pleasure to see the initial activity and many new items and skills posted. We encourage you to check back frequently to view all the exciting new listings!
If you have not yet had a chance to offer your items and skills or wish to update them, you will be pleased to learn that we have just added a rich text editor to improve your posting experience. Not only will it provide you with more user-friendly options when bolding, italicizing or underlining text, but it will also help you to be more creative with your item descriptions.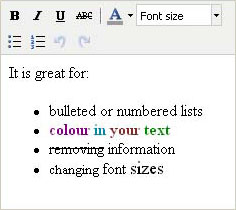 By combining the text widget with crisp and clear images and using the promotion capability, you will have the ability to create exciting and dynamic posts. The fun of creating the posts pays off as the offers come in!
Thank you for your support in these exciting initial stages of Swapsity. We look forward to continually improving the site and watching the network of swappers grow, together making Swapsity a vibrant swapping community for Canadians.