Swapsity brought barter to the Green Living Show with phenomenal results, showing Torontonians there truly is a green way to shop.





We're getting to be pros at organizing large-scale swap meets and with each event we strive to do things bigger, better and bolder. On the weekend of April 13-15, we hosted a three-day Movie Music Eco-Swap marathon at the Green Living Show, Canada's largest green consumer show. To our delight, we saw thousands of swap successes happen right before our eyes. The Swap Zone was booming with positive energy, a great vibe and so many excited swappers. It was a pleasure seeing the happy expressions and hearing the excited chatter when swappers started growing their media libraries through barter. We loved every minute of it!



The much-loved event was kicked off with over 200 swappable items leftover from past events, which meant that swappers could get started right away. Over the course of the swap the tables were brimming with various CDs, DVDs, Blu-rays and vinyl records as far as the eye could see. By the end of the three days 2,800 were swapped and a total of 3,437 media were recycled and diverted from landfills. That's over $21,000 that Torontonians were able to save by swapping instead of shopping! The remaining 850 items are going to start off the next swap meet, happening July 21st. We also polled swappers as they left the Swap Zone and 90% of surveyed swappers indicated they left very happy.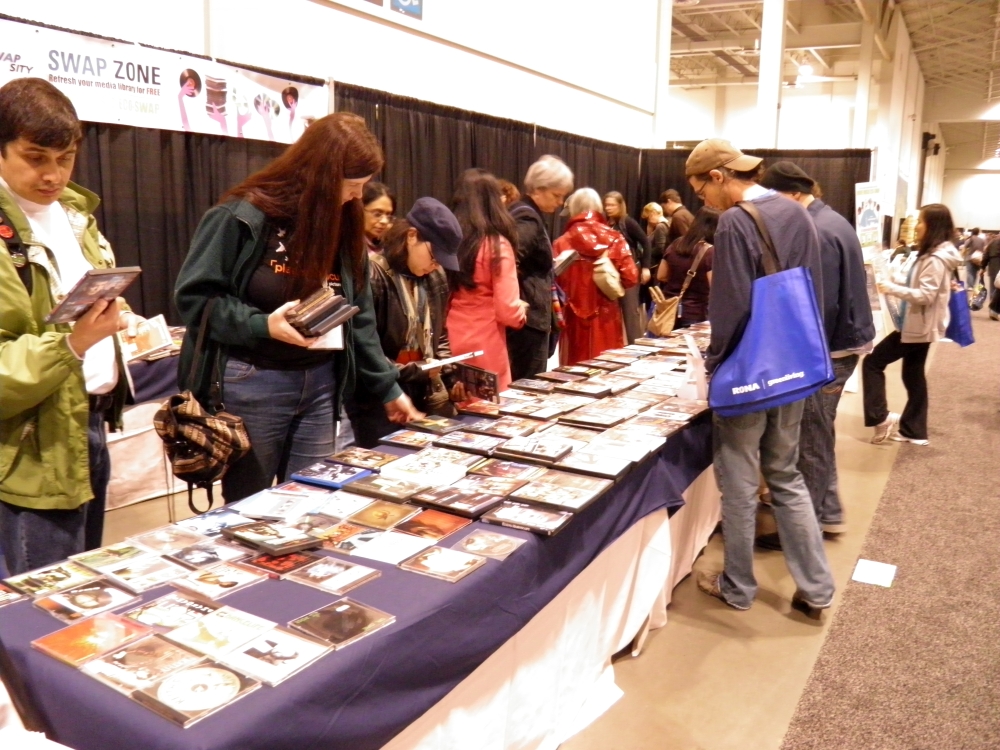 Here are some of our favourite memories and moments from the Movie Music Eco-Swap:
When we asked swappers why they loved swapping they shared the following: "smart!!" "no money involved," "neat way to not waste," "availability of it to everyone" and "just makes sense." We couldn't agree more!
One eager swapper brought us a cart with 81 items.
A spontaneous volunteer, Eddi, joined us when the Swap Zone traffic suddenly peaked on Sunday afternoon. Being a music aficionado and an avid swapper, Eddi contributed 99 items to the swap! He took back 93 'new' swappables for his media library. He's sure to be back to renew his library again at the next swap on July 21st!
We got accolades from BlogTO who picked us as one of the Top 5 among the 400+ exhibitors at the Green Living Show. That's like being in the top 1% of your school class. What an amazing honour!
Some movies were checked-in but never made it to the table! Titles like Lord of the Rings, Last Samurai and Gone in 60 Seconds were so popular they were traded, hand to hand, between swappers.
The event had a strong green spirit. We let a few eager swappers who didn't bring any media use green pledges to swap. They made promises like to participate in Meatless Mondays, start a home kitchen composter or to switch to paperless billing.
To keep the Swap Zone money free, we happily declined any offers to pay in cash for media from the tables. Swaps only!
Enthusiastic feedback poured in, during and after the three day swap marathon:
"Such a fantastic idea! More! More of these!"
"You're awesome."
"Scored some great records! Better selection than DVDs I bought."
"Fantabulous!! Will be swapping a lot more."
"Best thing ever"
"What a great way to trade!"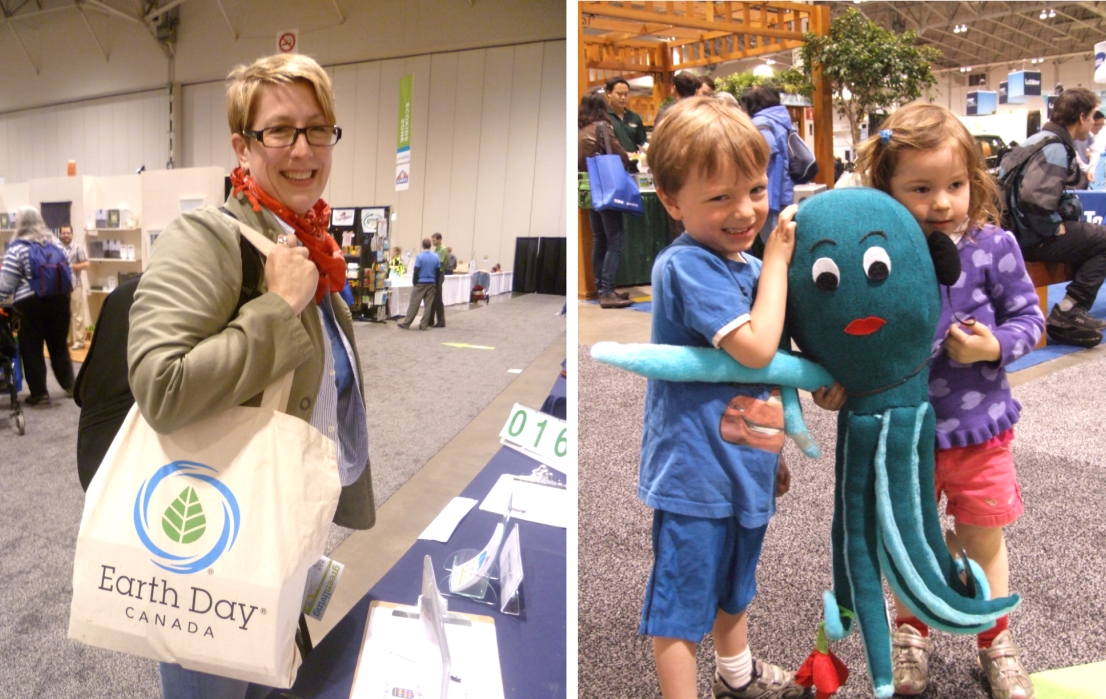 It's in these moments from the Swap Zone that we see the humanity behind barter transactions when cash and credit are taken out of the equation. Some swappers found a piece of nostalgia among the movies and music that captured their youth in a way that nothing else could. For instance, Erella, found her favourite Miles Davis album, while another swapper was reunited with a relative at our swap. Watch this this video to hear his uncanny story!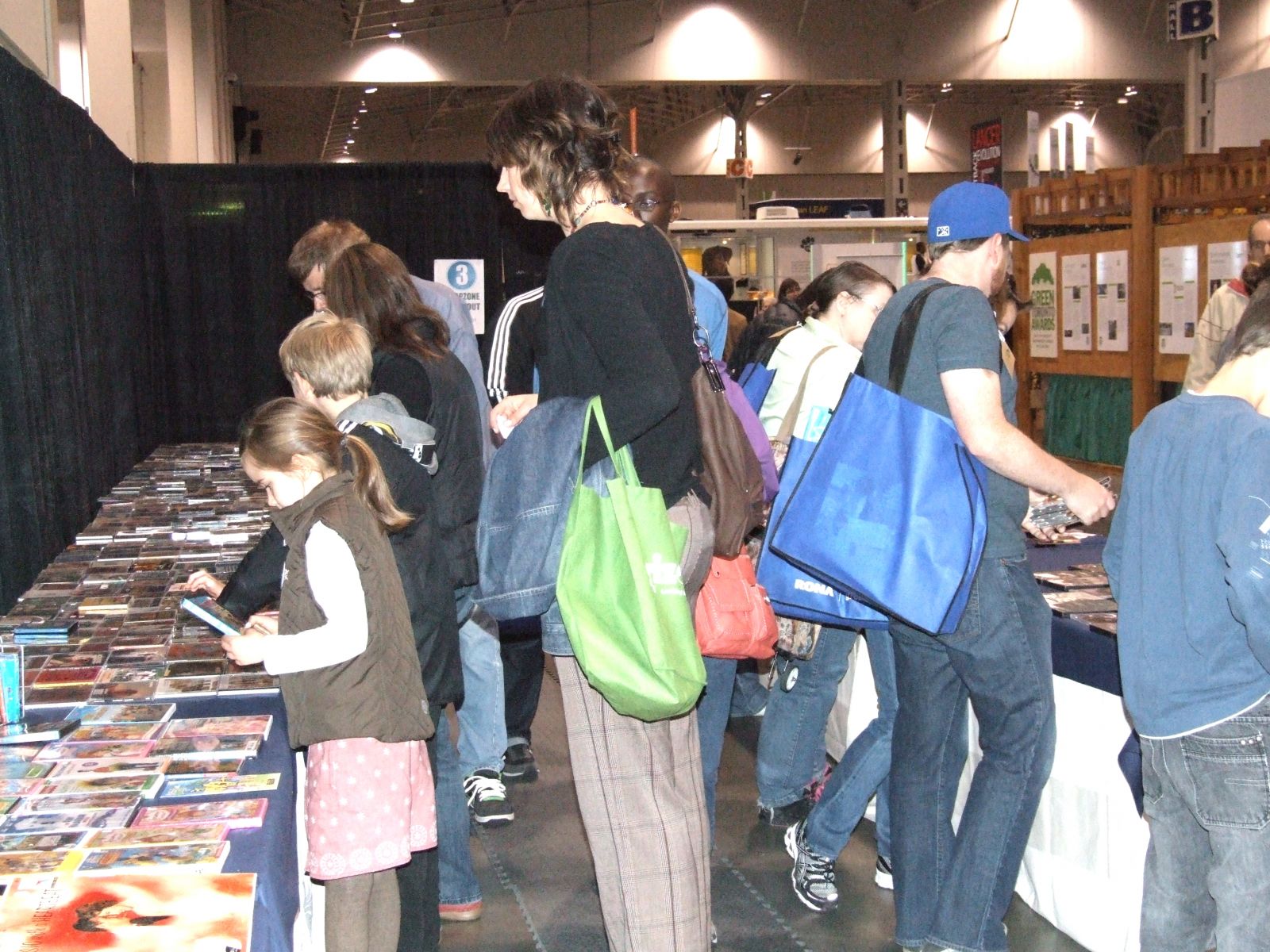 One man's trash is indeed another's treasure. We witnessed an example of this when a swapper who dropped off District 9 on DVD and told us just how much she disliked the film. Minutes later another swapper swooped in on the DVD and couldn't contain his excitement. He loved the movie! We found some swappers were not into the 70s and 80s music, while others loved it and were enthused to pick up some cool vintage stuff. The lesson? Everyone has a different and changing tastes and that's why it makes sense to swap stuff!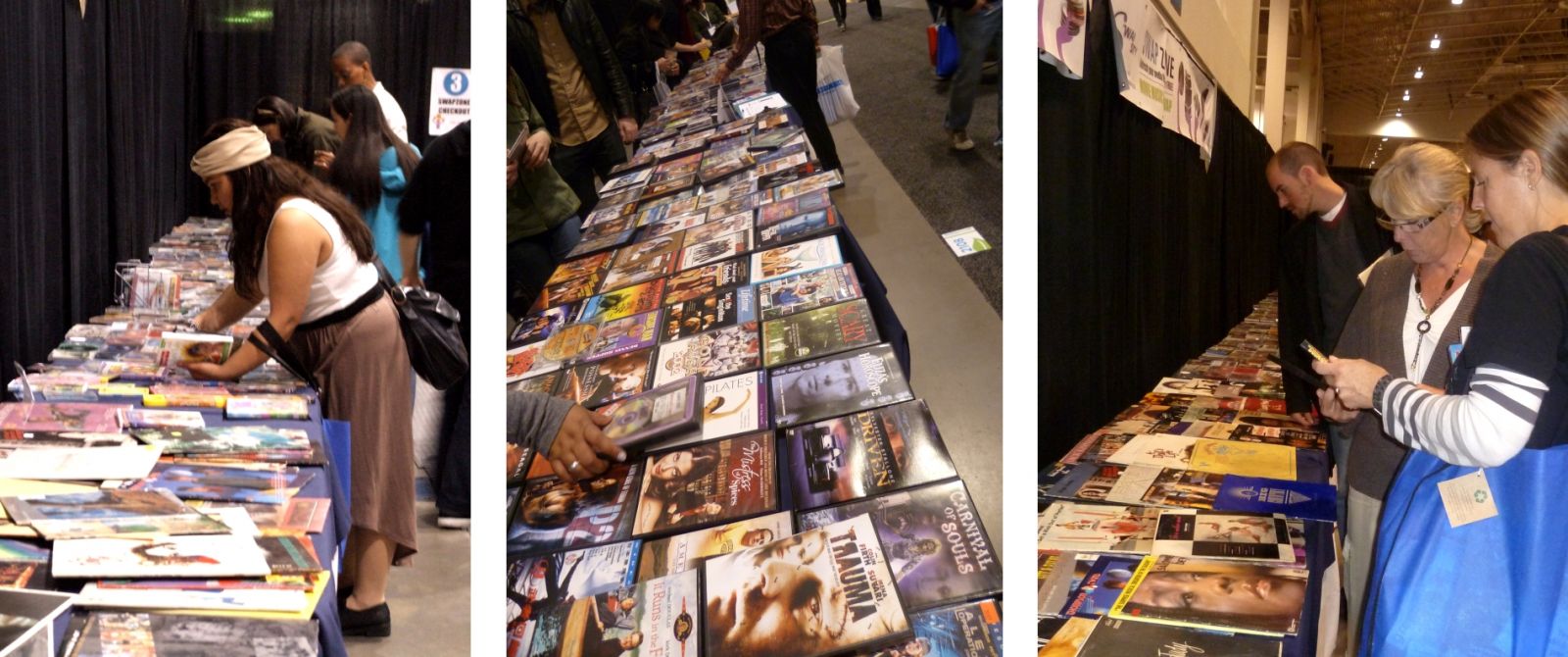 We even had a section dedicated to family-friendly media items. Speaking of things that kids love, did you see our sweet and swap savvy mascot, Swaptopus?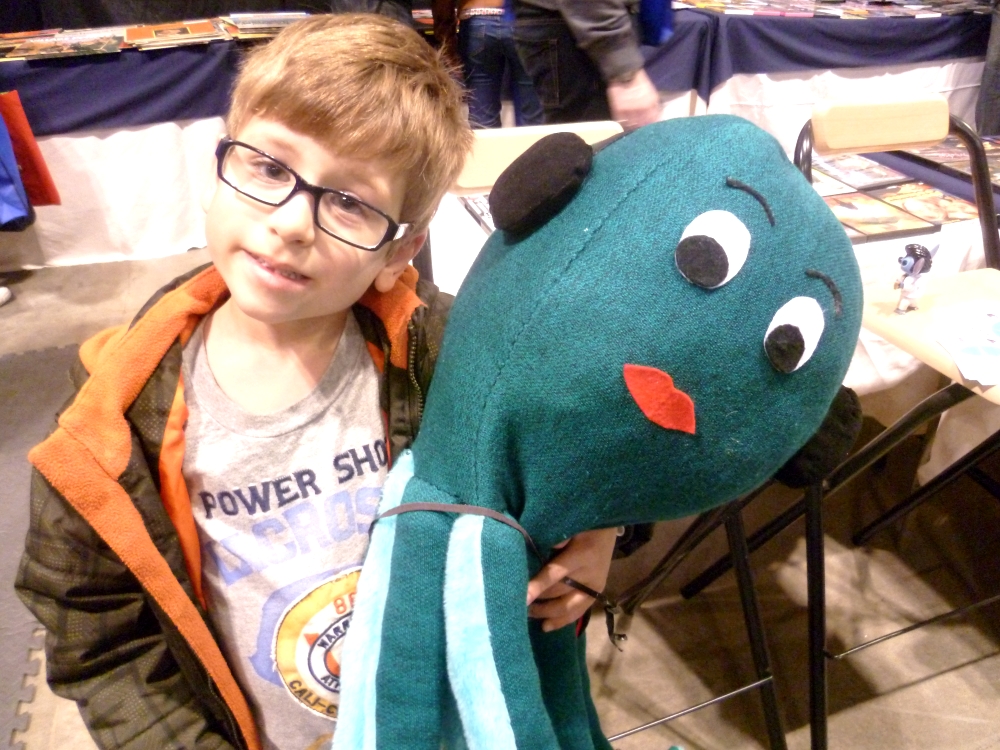 She was hanging about the booth giving hugs and posing for photos. Friday saw a lot of school age kids on field trips come through and Swaptopus, always a hit with the kids, was practically the star of the show!

We have so many people to thank for making this event possible and it starts with the fabulous and dedicated volunteers without whom we could not have delivered such a successful event. From planning to execution, the swap was run 100% on volunteer power and because of them the energy was always high, the smiles were always beaming and the swaps never stopped.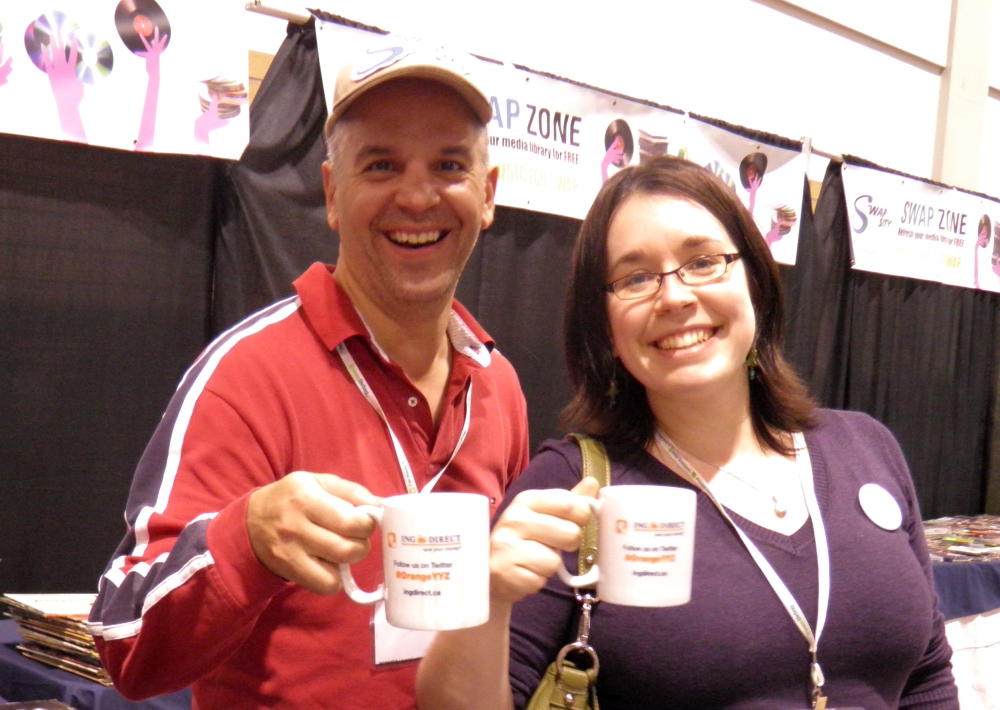 A very big thank you as well to the swappers who came out and see us! You're the reason we do this and none of this would be possible without you. We also want to thank the wonderful Green Living Show organizers who did a phenomenal job putting the whole show together and running everything smoothly.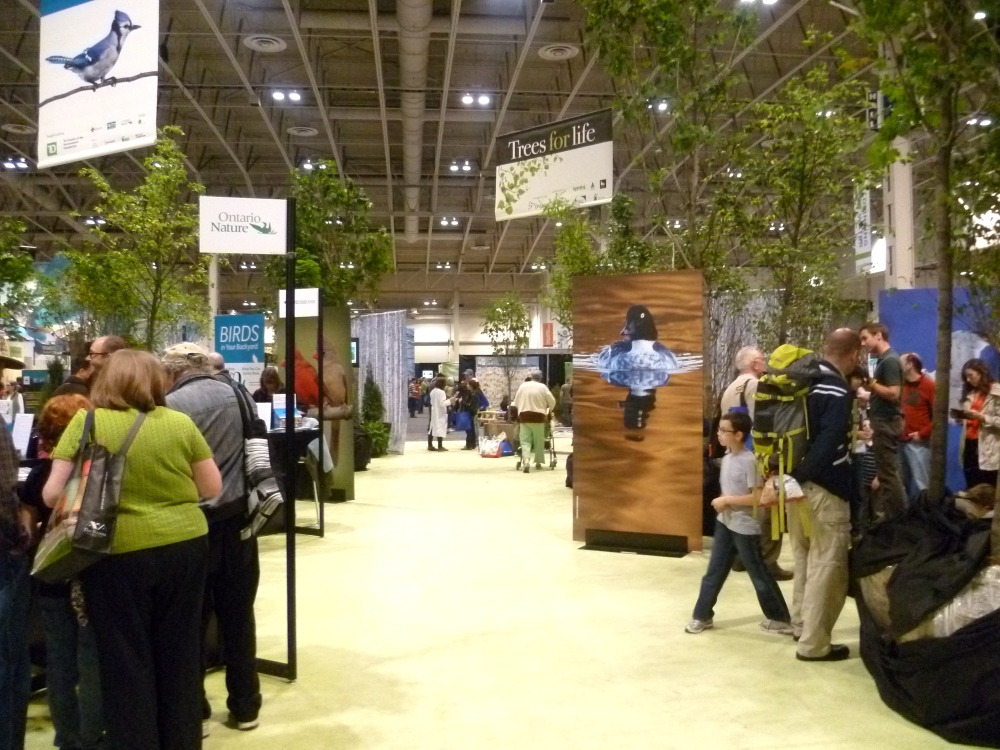 Last but certainly not least, thank you to our friends at Brook's Delectable Chocolates, Cg6 and TKMT who generously lent us some supplies for the swap, allowing us to keep things more green. You rock!

To date, the Movie Music Eco-Swaps in 2011 and 2012 have resulted in more than 8,000 media items being recycled, 6,000 swapped and over $45,000 in savings.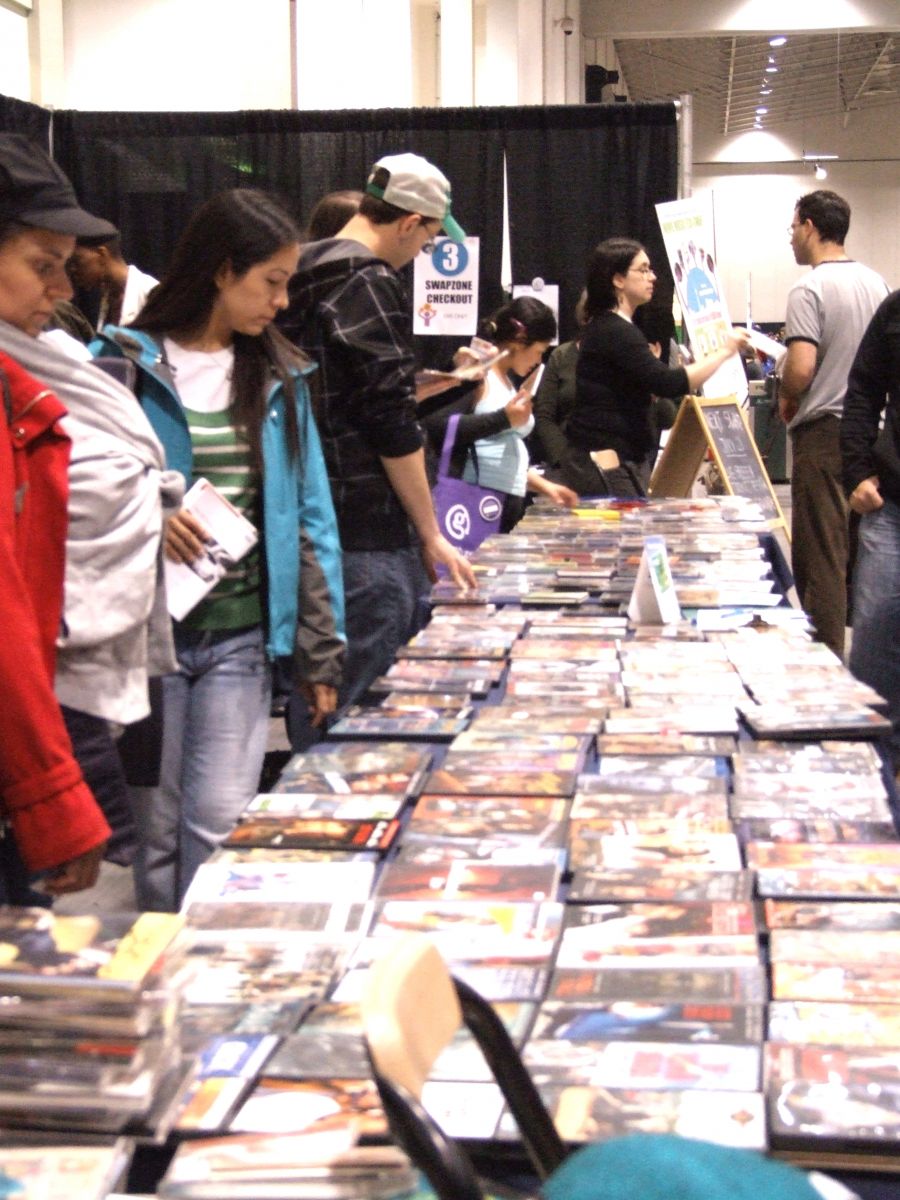 If you couldn't make it to the show, don't sweat it. There's another chance to get your swap on at the Live Green Toronto Festival, happening July 21st at Yonge and Dundas Square.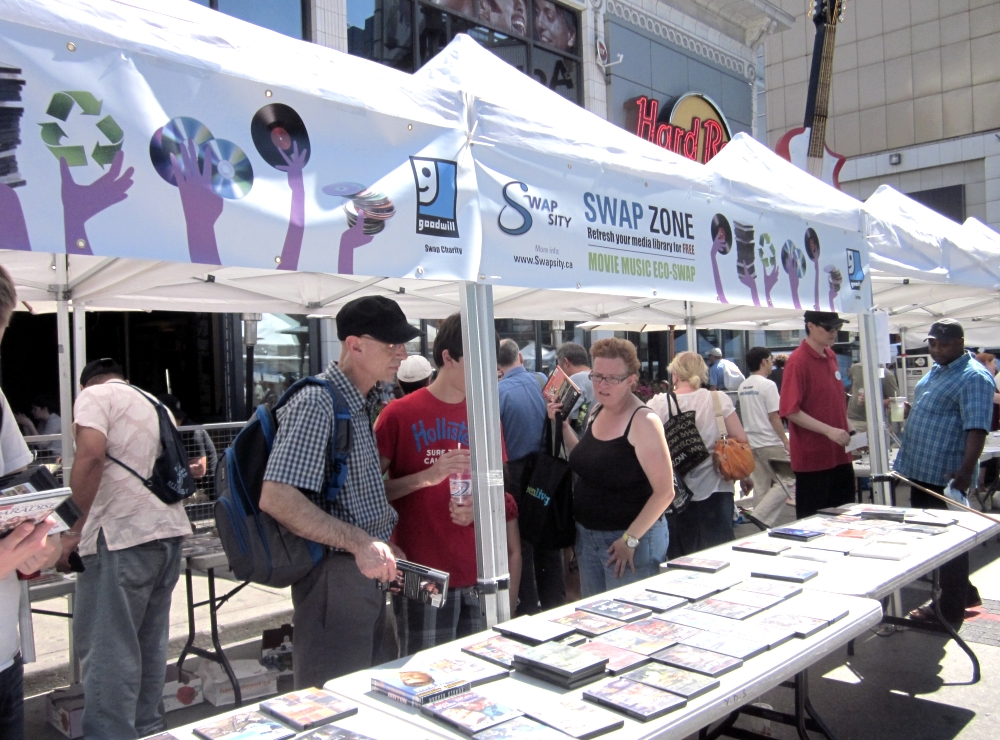 Last year, we swept Toronto off it's feet with a massive and super popular swap right in the heart of the city. Coming off of the Green Living Show success, we're really pumped to get started on the Live Green Toronto Festival swap!



Help us spread the word on Twitter using the hashtag #SwapZoneTO and invite your F acebook friends.

See you on July 21st!