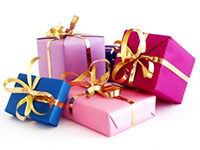 Reminders of the fast approaching Christmas are now in every shop window and on the tip of everyone's tongue. This year, instead of spending yourself dry, why not swap for your festive goodies? Get your gifts on barter for a frugal, stress-free Christmas and know that they will still bring that priceless look of joy to your loved ones. Trade your professional services for a stay at a winter chalet or exchange items for original artwork, collectibles, hand-made jewellery, gift certificates or still-wrapped items. They all make wonderful gifts so get swapping and start checking off your Christmas list!
Begin by posting any goods and services you have for barter and if your listing makes a good Christmas gift, tag it with the gift-shaped icon. Use your items as currency to get the things that you really want from other swappers like Christmas decor or gifts. Then, convert your wishlist into a gift list and add on to it any presents you are hoping to give your family and friends this year. Need any more reasons to get started? Check out one member's Christmas success story.

Happy Holiday Swapping!