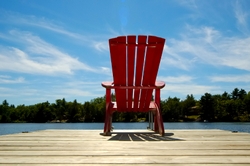 Like most small business owners, Paola has taken to using enterprising methods like barter to increase her bottom line. This eventually lead her to Swapsity. Being an avid barterer, Paola was intrigued with our site and eagerly joined. She was soon on cloud nine when she traded her luxury Muskoka cottage for another beautiful Collingwood chalet. In fact, you probably remember Christine's Blue Mountain cottage from our last post.
Paola owns a small school for kids with learning disabilities and emotional problems and expenses are always in consideration. She was seeking a new opportunity for her school while Christine wanted a new adventure for her family. They traded cottages and it turned out to be a perfect swap! Christine, spent a glorious weekend in Muskoka during the Thanksgiving weekend with her extended family, enjoying a hot tub under the Muskoka stars. Paola had a blast ziplining down Blue Mountain and taking in the sunset along the Georgian Bay coast with her small group of kids. As an added bonus Christine's husband fixed Paola's loose kitchen faucet while Paola repaired a faulty bathroom lock and left a quad toaster at Christine's cottage for larger groups! Both places were left spotless. A thrilled Paola says, "It was a great, respectful change. I'm sure I will continue to trade with her. With a little bit of negotiation and patience, you can gain incredibly through barter. The more you research and work through barter opportunities, the more you win!"
Check out this incredible Muskoka cottage and make Paola a deal!