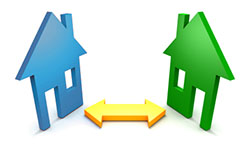 When Christine first joined Swapsity her heart was set on swapping her beautiful cottage for other hot vacation spots as well as a long list of things. So far, her eagerness and determination have already earned her two fabulous swaps. Christine's cottage is a 3000 square foot Blue Mountain property that's ideal for a vacation with family or friends, with something for everyone to do. The aptly named Rustic Beauty is located in the heart of Blue Mountain, Ontario's Four Season Resort Area, offers lots of great amenities and is big enough to accommodate a large group. Christine made sure to add some fantastic images of the private heated pool and hot tub, games room, fireplace and exterior and in no time it grew to be one of the most popular listings on Swapsity.
The cottage has since fetched swap offers for stays in two lakefront properties: a luxury cottage in Baysville and a charming cabin in Parry Sound. Both completely different locations and offering all of the fun and relaxation of Christine's own place. They're already booked to swap again this year! Christine says, "My experience has been exceptional. The people are a pleasure to deal with, the swaps were so successful that all of us want to continue bartering for the same dates next year, which is ideal! I have rented my chalet twice for $1800 a weekend during this ski season and have secured a week at one cottage and Thanksgiving weekend at the other. I have enough money now to hunt for a vehicle." Wow! That is good news. It's incredible to think that earlier the cottage would be empty for stretches of time and now, not only has it saved Christine $3,600, it has served as currency to afford Christine all sorts of great things.
Christine keeps the swapping prosperous by creating good rapport with those she swaps with and being flexible. Her WishList is comprehensive and includes all sorts of items and services, like living room furniture, a van, an arborist, a roofer and an open invitation for interested swappers to make a deal. So what are you waiting for? Check out this incredible cottage and make Christine a deal she can't refuse!
Now this is what we like to call a savvy swapper!