Get excited! On Nov 25, we are launching Premium Features. If you don't already know, these are optional, pre-paid tools that give you access to exclusive functionality such as Video Listings, prime real estate in Showcase, Top Listings in searches, website links and extra pictures. Still curious? Check them out here to learn all about each feature and how to make them work for you. For a small fee, the tools put your swap listings on centre stage, adding value to your services and items, generating more views, and bringing you more swap offers.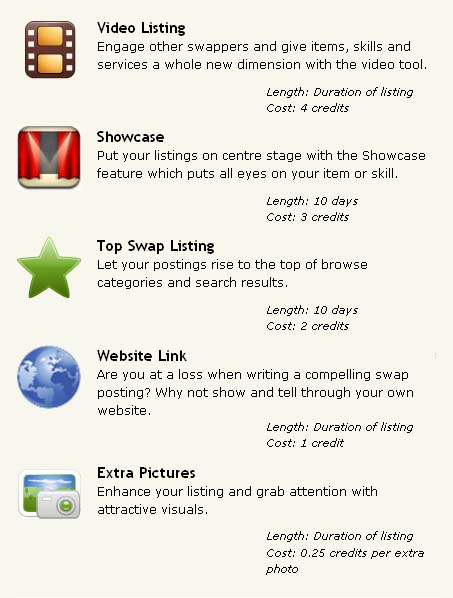 Typically, your swapping success depends on a few factors:
How popular your item is.
How well you communicate and present what you are offering.


Tip: Get creative with a catchy title, clear description, and visuals like pictures and video content.

How visible your listing is within our swapping community.


Tip: Appearing in the Showcase and being at the top of searches all count.
For example, if there are twenty other personal trainers offering to barter, you want to be the first listing that other members see and give those swappers good reasons to pick you. The key is to differentiate your listing with a video clip, a set of pictures or a direct link to your website. Take a look at this member who's listing commands attention in all the right ways, using Premium Features.
Now that you know a little bit more about Premium Features, here's how to get started with them. First of all, Premium Features are priced and paid for with credits. Some Premium Features cost as little as 25 cents and for simplicity, multiple credits can be bought at once. You can purchase various denominations of Swapsity credits, starting as low as 5 credits via Credit Card or PayPal. Your Swapsity account will be replenished with credits and you'll be instantly ready to put them toward Premium Features like Video Listing, Top Listings or Showcase for your swap ads. Your credits are kept track of on your Credit Transaction Page. One credit is equivalent to one Canadian dollar though we will often throw in some bonus credits. Hey, we can't help but give! In fact, to celebrate the launch we are having a one-time promotion for the first ten days that Premium Features go live. Until December 5th members can get 20 credits for each $10.00 spent. That's a 50% discount on some dynamite marketing add-ons for your Swapsity account. We hope you love these features as much as we do and that they bring you hours of new swapping fun.