Swapping online is a beautiful thing, but there's something about the interaction that makes face-to-face bartering extra sweet. This past Saturday, excited swappers brought their books, clothes, homespun jewellery, video games and baby items to our first Swapsity Swap Meet. Within minutes of opening the doors, vendors swooped in to lay out their wares and get organized for the anticipated throngs. Soon enough, a crowd of eco-shoppers and bargain hunters set the room a-buzz with friendly negotiations and deal-making.
Among the books, collectibles, clothes, colourful vases, and crafts, we spotted a bunch of fantastic swaps going down. DVDs were a hot item, reeling in a vintage Russian military coat, a Ozzy Osbourne t-shirt and a Turkish hookah respectively. A few other notable trades included a Nintendo 64 game system for a mixed-bag of goodies, a pearl necklace for a knapsack and greeting cards for a picture frame and a milk froth-maker.
Overall, the Swap Meet was well-attended and attracted first-time and veteran swappers alike to browse, buy and trade an assortment of items and skills. Though, not every item got swapped on Saturday, attendees voiced their relief to rid themselves of clutter, some of them donating or recycling their leftovers once the meet came to a close.
Vendors and visitors got a chance to give us some positive and valuable feedback and great ideas for future events, which set our wheels in motion. We can't wait to let you in on the plans for upcoming meets just like the last. Until then, hop over to Flickr for some more pictures of Saturday's bustling Swap Meet.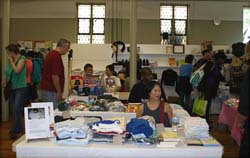 Aisle after aisle of swap stores served up eye candy and potential deals for Swap Meet visitors.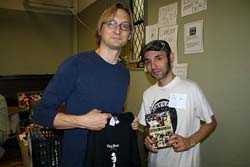 Michael and Eddie trading Ozzy Osbourne T-shirt for Urban Gothic DVD. Rock on, guys!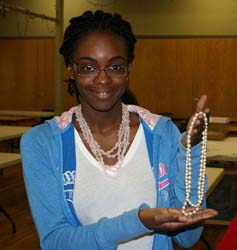 Elisa's gem of a napsack fetched her this set of white pearls.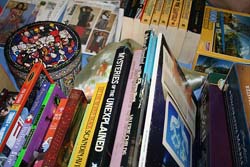 Books, books everywhere, and no one to swap me a shelf to put them on!