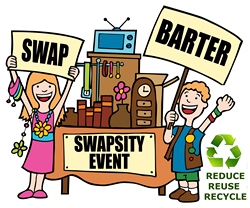 Pedestrian Sundays in Kensington Market—Toronto's mecca for vintage and thrift store gems—are all about celebrating the eclectic, artistic community in a creative and eco-friendly fashion. What better way to do that than with barter?

This Sunday, Swapsity is hosting the Shiny Stuff Swap, so you can trade your pre-loved wares for some shiny treasures. Bring us the cute crafts, cool books, sparkly jewels or quirky collectibles that you don't need any more and discover what unusual and interesting things you can get in return, without spending a dime. It's a one-for-one swap, so bring up to three things (valued at less than $25 each) and take home three treasures that are new to you. Swapsity will be throwing in a few trinkets to get the barter ball rolling. No shopping, just pure swapping!
DATE: Sunday, August 28
TIME: 12:00pm – 6:30pm
LOCATION: Kensington Market, corner of Augusta Avenue & Wales Avenue (http://www.pskensington.ca )

This is a FREE event.
What is "shiny" stuff, you ask? Think of this as a treasure hunt! Something is shiny if it's:
• Cute, quirky, eclectic, interesting
• Visually appealing
• Something you could respectfully give or receive as a gift
• Potentially valuable to another
On the other hand, it's not shiny if it's:

• Broken
• Electronic/electric/motorized and we can't test it
• Illegal (see full list)
• Perishable
• For personal care use, and opened

Gather up your vintage items, arts and crafts, records, jewellery pieces, fashion accessories, collectibles, media items and other fun and unique stuff and join us on Sunday August 28 at the corner of Augusta Avenue and Wales Avenue for some swapping fun!

RSVP on Facebook: http://www.facebook.com/event.php?eid=146382192116523< /a>

HOW WILL IT WORK
BRING: Bring your interesting, fun and quirky pre-loved items to trade. You can bring up to 3 items to this event.

GET: You will receive a swap token for every accepted item you bring.

SWAP: Trade your swap tokens for new items from the Swap Zone. No cash transactions, just pure swapping!
SWAPPING GUIDELINES
1. To participate, you must contribute at least one item. You can bring up to 3 items to this event.
2. We reserve the right to not accept any items that we feel are unsuitable.
3. Counterfeit, non-original or pirated items will not be accepted.
4. The items must be in good condition. Remember, your items will be passed on to a fellow Torontonian!
5. You will be able to take the same number of items that you bring. You may choose to take back fewer items. Keep in mind that all swaps are final.
6. All items will be considered equal value. For example, if you contribute 3 items, you can swap it for three other items.
7. You can redeem your tokens anytime between 12pm and 6:30pm. If you have a token but don't find anything that you like when you arrive, you can come back to the Swap Zone later in the day to swap your token for new arrivals.
8. You will receive 1 swap token for each item you contribute.
9.Tokens are valid for the day of the event only and cannot be carried over to a future event.
10.Should you decide not to redeem all of your credits, why not pass them on to another lucky Torontonian?
Visit us at http://www.swapsity.ca/m eets to learn more about our swapping events in Toronto and sign up for swap meet alerts!

Dig up your shiny stuff and join in the fun!