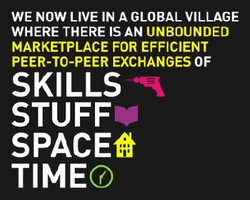 We are entering a new economic landscape: the 20th century was all about hyper consumption, the 21st century is based on collaborative consumption. Collaborative consumption, a term coined by Rachel Botsman, refers to the shared economy that is emerging among millions around the world, an economy based on the shared usage of goods and services. Instead of buying 100% of what we own, we are swapping, sharing, renting and bartering for the things we need. This age-old process of barter has been revolutionized and redefined by technology and online peer communities. We're seeing communities grow, and move toward sharing, openness and cooperation. It's exciting and hope giving.
This new era is marked by trust between strangers, access instead of ownership, and domination of experience over acquiring "more stuff". People are swapping hundreds of thousands of DVDs, books, video games, clothes and toys every second; services like Swapsity, Landshare (food growers), Zipcar (car sharing) and Bixi (bike sharing) are making it happen. The result is a cool, modern movement or economic and environmental sustainability, made possible by sharing and swapping.
Want to experience collaborative consumption first hand? On July 16th we'll be staging a gigantic music and movie swap as part of the Live Green Toronto Festival. Using Toronto's commercial district as our stage, we aim to have 10 000 items –DVDs, Blu-rays, CDs and vinyl records- change hands, without a dime being spent. No shopping, just pure swapping. Be sure to join us for this amazing event!
Watch this video about Collaborative Consumption, by Rachel Botsman, author of the book.
WHAT'S MINE IS YOURS from rachel botsman on Vimeo.
Are YOU joining the movement?