The Swapsity Movie Music Eco-Swap at the Live Green Toronto Festival was a phenomenal success! All six Swap Zone tents were a constant buzz of activity. Within nine hours, 3,327 media items were dropped off, 2,352 of which were swapped - totalling more than $18,000 in savings. The remaining 975 were lovingly donated to Goodwill at the end of the day. We were on a high of good energy, beautiful weather, and positive responses from the swappers.

It's amazing that so many transactions can take place at the epicentre of Toronto's shopping district without anyone wielding a credit card, or unzipping their coin purse. We created a powerful, concentrated community of people who got things that they want, swapping item-for-item, simply by bringing us the pre-loved stuff that they were finished with. Movies can get tiresome after a few viewings, but it doesn't mean that the disc is trash. It can become re-purposed instead of dumped in a landfill.

To our delight, the efforts did not go unnoticed! The Swap Zone was listed as a top highlight of the whole festival, as noted on the City of Toronto website. We also garnered media attention from Metro, Yahoo! News, Epoch Times, the Torontoist's Weekend Planner and a few enthusiastic bloggers who featured the story in the days leading up to the event.

When it finally arrived, the day did not disappoint. Even before the event started there was a long line of eager swappers, eager to drop off their things. Within half an hour of opening they had created a pool of over 500 DVDs, CDs, Blu-rays, and vinyl records to choose from. While keeping track of how many items were dropped off, we watched with delight as the digits on our counter whirred past 700 to 1,200 and soon to more than 2,600 media items in the afternoon.

Visitors were introduced to Swaptopus, our new festival mascot. Soft, cute and cuddly, she could be seen mingling with the crowd and using her long arms to hug and greet Miss Toronto of Tourism, Toronto police officers, swappers, kids and tourists. Our Swaptopus loves swapping for new music (she even got her music player on barter), and never goes anywhere without her headphones. We knew she would get a kick out of this event.

As the day's temperature soared, so did our item count. We quickly zoomed past 3,000 to 3,300 items and beyond. Swappers who had cleared out their clutter, were now snapping up new finds from the smorgasbord of movies and music that lined four of our six tents. Inspired by Martin Provost's trade-up challenge, four of our team members decided to get the festival crowd swapping. We started with a green stress ball, and within 20 minutes had swapped up through a pen, a Live Green Toronto membership card, body balm, a bag of Yukon potatoes and finally ended up with a pair of bike goggles. By the way, did you notice the t-shirts worn by the Swapsity team of volunteers? Even those were obtained partially through a swap.

The Swap Zone gave Torontonians a chance to participate in Collaborative Consumption and experience its benefits first hand and in a fun way: building community, saving money and helping the environment. As a group, we can use it to curb consumerism and strengthen community. On a personal level, we get new things for free and see our old things get re-used. Swappers left happily, some said to have found some unusual items, others said it was an "amazing idea," and a "real way to recycle items." It's clear that we made positive ripples among eco-conscious Torontonians, heralded by requests of, "do it again and again."

One excited swapper and avid record collector came to contribute 200 records. Another record enthusiast, Robert, picked up a wealth of rare and interesting vinyl without paying an arm and a leg. Among them were records from Graham Central Station and Billy Preston, Alice Cooper's Welcome to my Nightmare and Frank Sinatra's Nice 'n' Easy. Here's the run down, in Robert's own words:
Kudos to our talented, creative and dedicated festival leadership team. With only three weeks to organize everything, the team pulled out all stops to gather, design, create and collaborate on all of the elements needed to make the Swapsity Movie Music Eco-Swap a smash hit. Additional thanks to our volunteers, the City of Toronto and the folks at Goodwill who all helped the event run like clockwork. In the words of one swapper, "Great team and great idea. Smoothly run." We agree!
Finally, thanks to two wonderful Swapsity swappers Lisa McCreedy (Lala's Critters), who created Swaptopus from recyclable materials, and Mary Lynn who made our pins!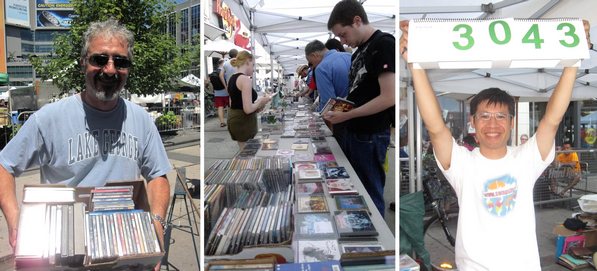 We're glad to have inspired such a positive and friendly group of Torontonians with the simple act of swapping. We're positive that we'll see even more people participate in the next event, and beat out our new record of items swapped, recycled and reused. Be sure to sign up for swap meets alerts if you haven't already.
One of our team members was keenly observing the swappers she saw during the event. Read her reflections here.
Swapping is contagious, and we're spreading it!