Title: Disney Belle figurine
Photos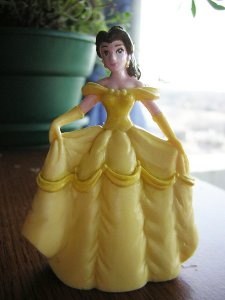 Video
Add Free Video to Your Listing
Engage other swappers through the video tool which gives items, skills and services a whole new dimension.
Toronto
Swap Item

"Beauty & the beast" Belle figurine, bought fro the Disney store years ago.
Figurine is plastic but nicely detailed and in great condition. Apx. 6 cm tall.
Will trade for something of equal value from my extensive wish list.
Have a beatiful day & happy swapping.
Condition
Second Hand
Swap it For

View Wishlist to see what stuff the swapper wants in return:



Professional Homeopathic services
Ear candles
PC desktop computer (tower only)
Laptop in good shape
Warm ladies winter boots size 9
Warm ladies winter gloves
Blue glass lamp
Anything interesting...

Transaction Terms
Group
None