In a nutshell, bartering is the trading of products or services for other products or services between two or more parties.
Today, technology and peer-to-peer communities are reviving and reinventing the oldest form of commerce and enabling people to live a more collaborative lifestyle.
Benefits of Barter
The obvious advantage of barter is that it does not involve money. Swapping enables you to meet your needs in lieu of using your cash or credit card. We've seen Swapsity swappers trade kitchen renos for a car ($4,000 saving), organic veggies for web design and even financial consultations for custom designed maps. A swapping site like Swapsity helps turn your things, talents and time into something else of value by connecting you to swappers in your neighbourhood and across the country. Joining a swapping site is a great way to tap into a community of people interested in bartering with you.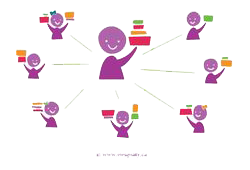 Swapping makes the exchange personal. In the words of one of our members, "bartering puts a sense of warmth and humanity back into transactions that can seem colder and more distant when there is money changing hands." People also feel connected to something bigger and get to expose themselves to new, cool and unique experiences.

Barter opens a whole new world of possibilities, as illustrated in our blog post, 12 Reasons to Swap More.