Yowza! It was a phenomenal day full of swapping, collaboration, enthusiasm, treasure hunting and Swaptopus hugging at last Saturday's Swap Zone. We were busy from the get go!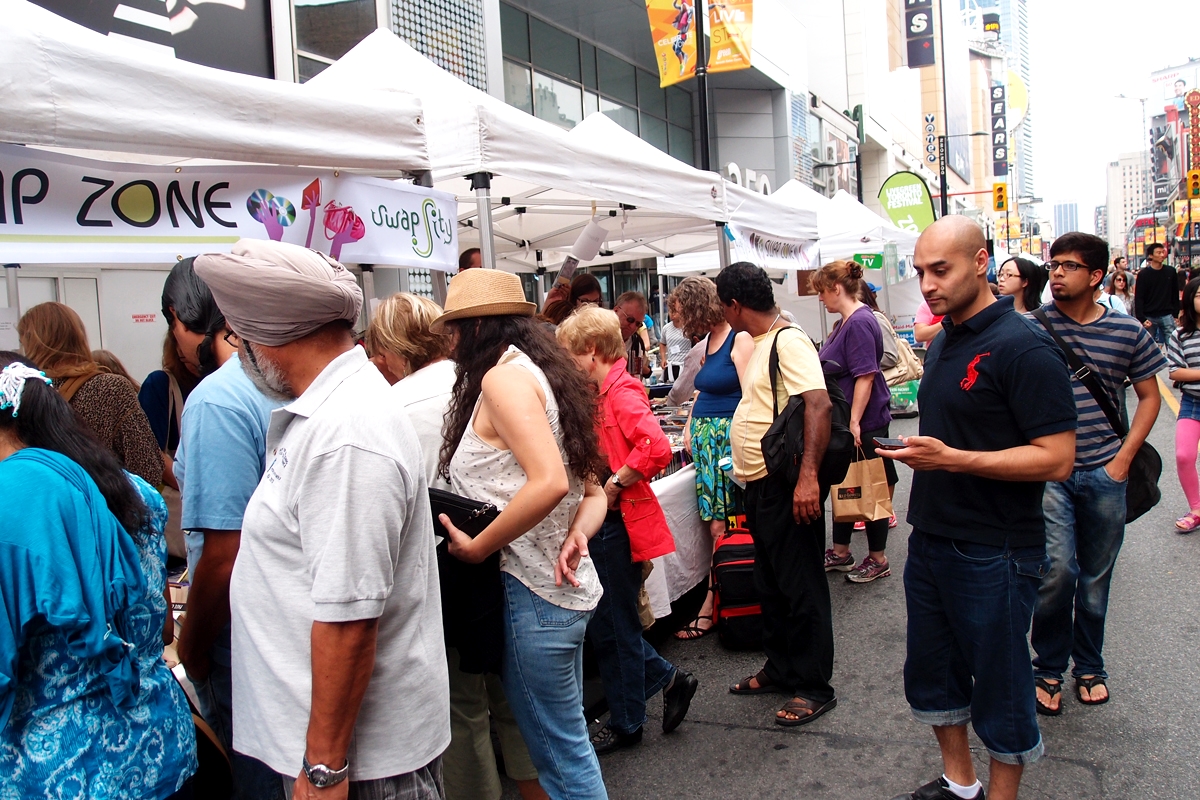 Veteran swappers were eagerly standing near our booth with their goodies way before the festival officially started. Once we opened, familiar faces and new ones hunted through six tents filled with an abundance of CDs, DVDs, books and vinyl, until they found the gems that had them smiling all the way home. We just never get over the sight of swappers leaving the Swap Zone with arms heavy and faces beaming from the "new" favourites they found.



As always, the number of swaps and savings were record breaking. Swappers brought 9,221 items, saving more than $50,000. We donated 1,044lbs of leftovers to Goodwill, diverting even the unswapped items from the landfill. Those numbers never fail to impress us. Simply incredible!
The Swap Zone had a family-friendly section, so the kids could participate in recycling too. We spotted one family with three children itching with anticipation to enter the tent and hunt for some new entertainment treasures. So cool that these parents are introducing their kids to the art of barter.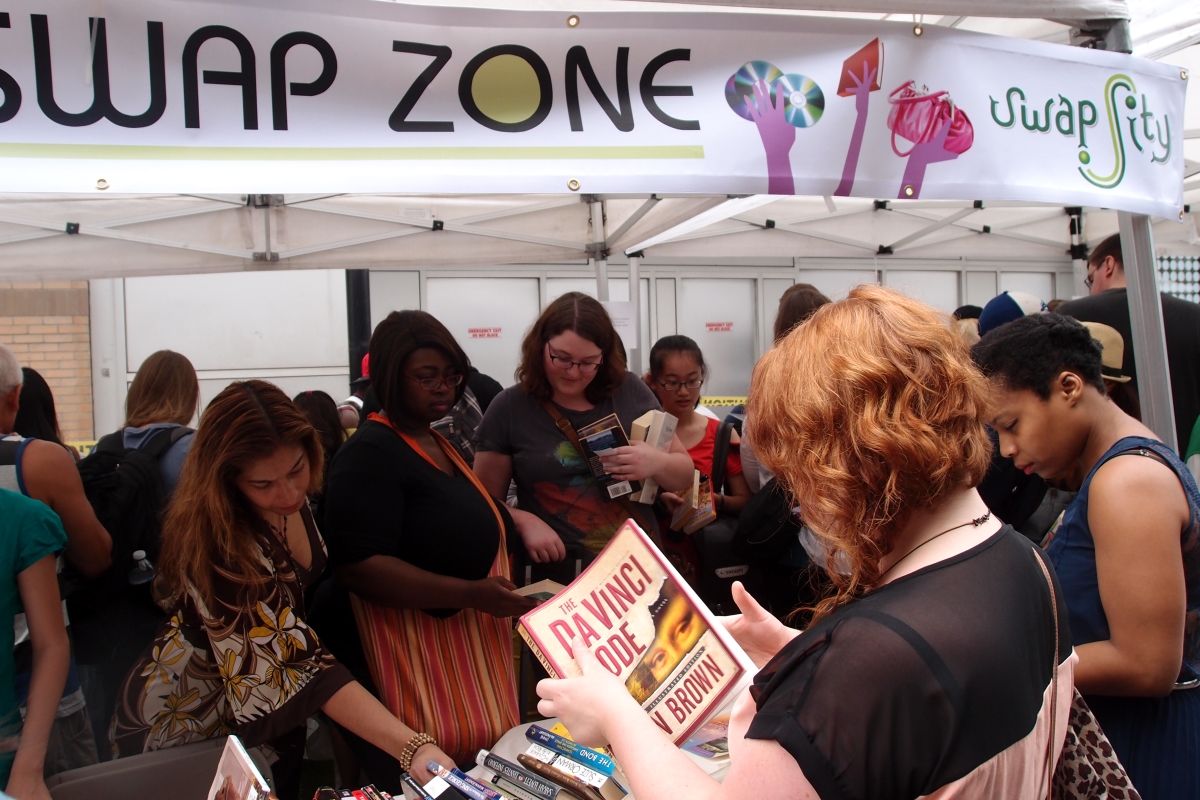 It was an extra special day for us because the July 27th swap coincided with the re-launch of the new Swapsity website and unveiling of our new logo!
"This idea is better than eBay!" commented one of the visitors who stopped by to chat with us.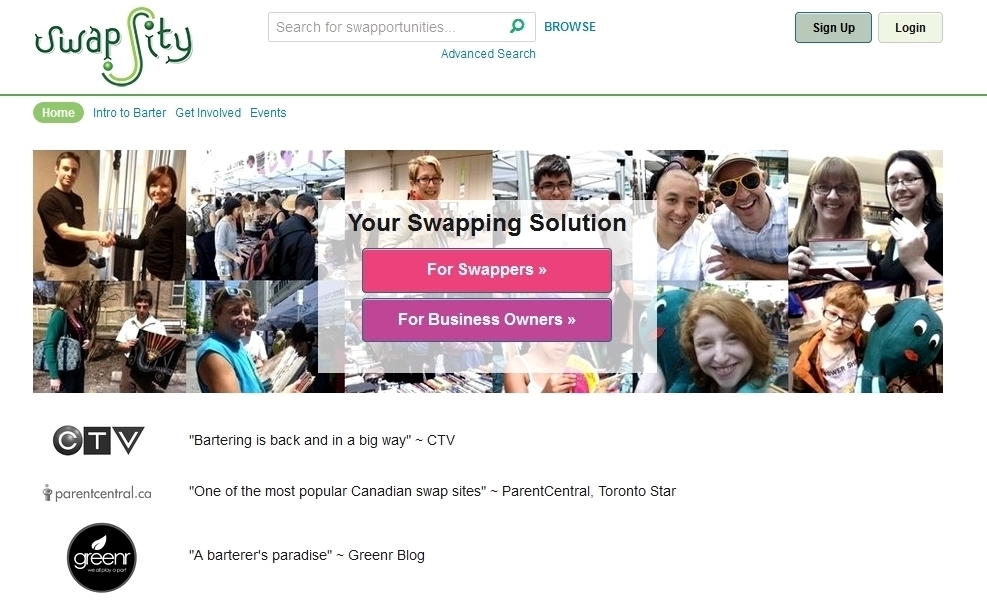 "I love that moment when people's faces light up when they get the concept, they are like 'Oh yeah,' because it's SO empowering! Even if you're working a lousy job, you still have skills and stuff in your house that you can swap." said Meka, a veteran volunteer, as Global News interviewed her about the Swap Zone. Watch Meka's and other Swap Zone reactions here.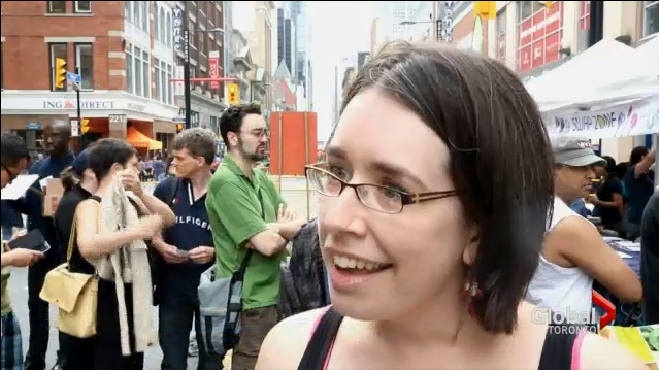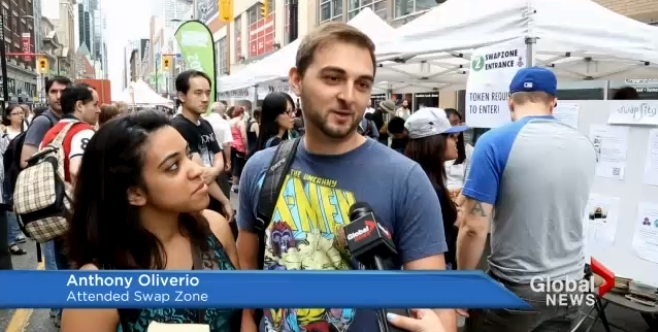 The media was quick to point cameras our way to capture all the action, while TV stations, bloggers and other journalists stopped by to interview us and our cheerful visitors.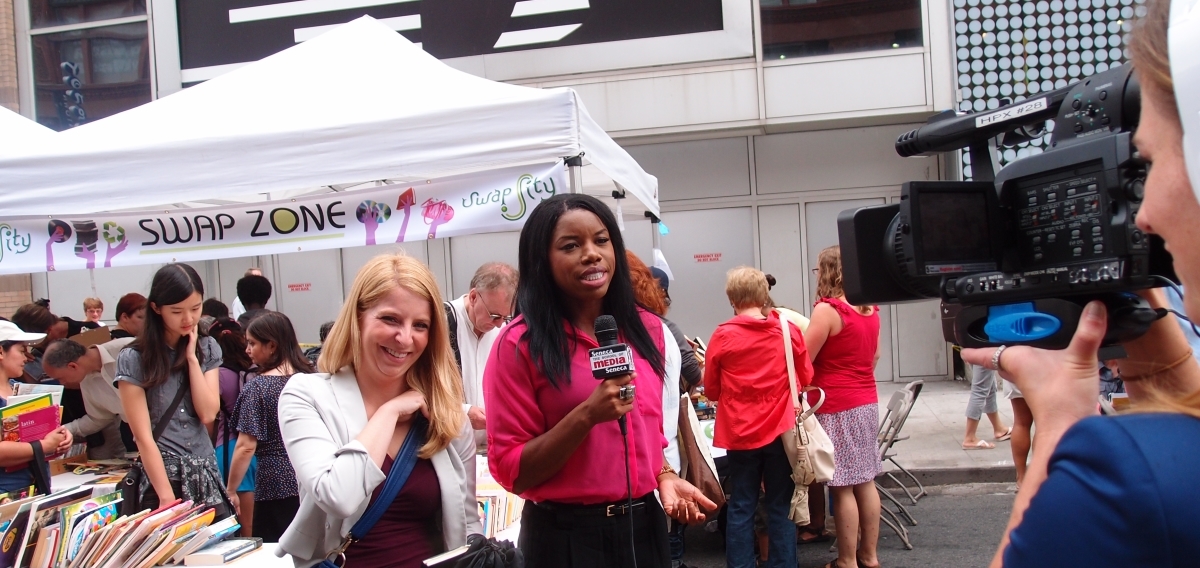 In the spirit of collaborative consumption, one of the swappers generously donated 700 CDs from his personal collection enthusiastically commenting, "Yay! Less clutter for me, and lots of music for other people!"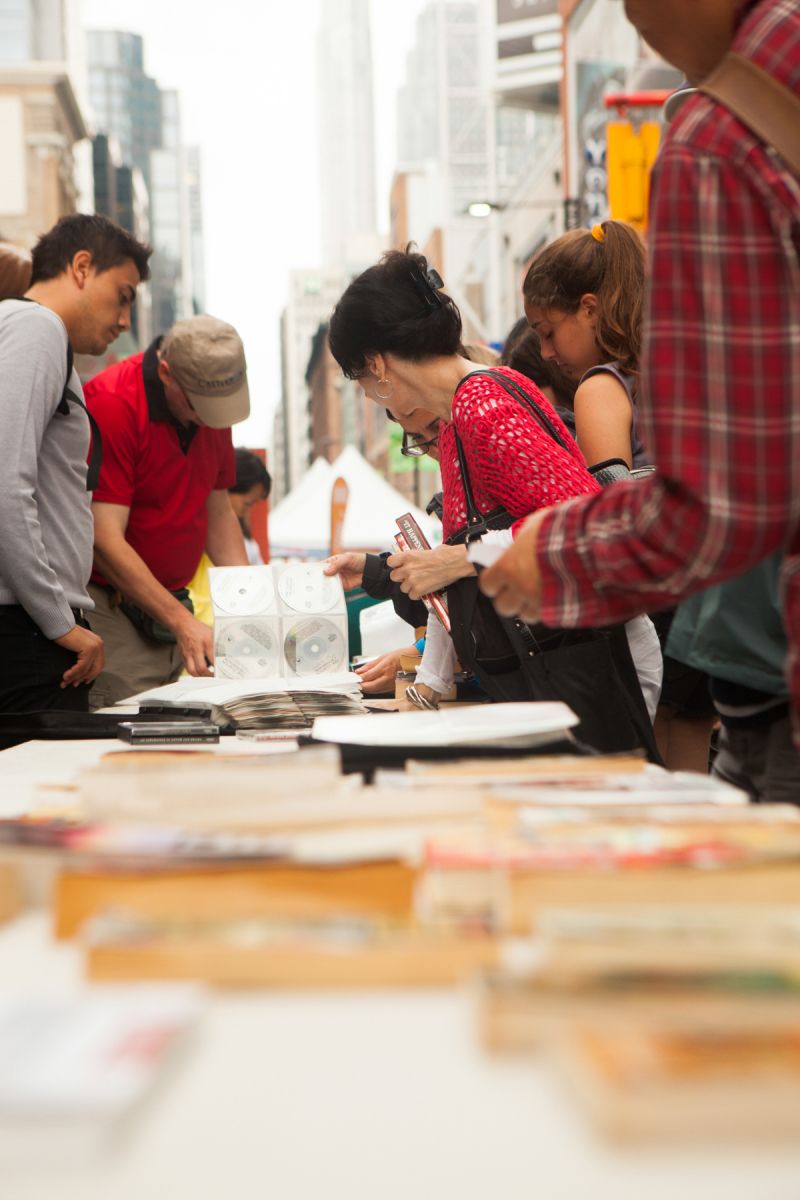 Not even the buckets of rain that caught festival visitors later in the afternoon could stop people from coming through the Swap Zone. One volunteer remembers checking in over 70 items for one couple who came despite the rain. Keeping fifty swappers and thousands of books in the six tents as dry as possible was a real bonding experience. It certainly made for a memorable event! One of our volunteers, Benjamin, was impressed with how everyone in the tents collaborated to solve rain issues. "The volunteers, as well as many of the attendees, helped with tarps, flinging puddles of rainwater from leaky tarps, and covering books. It was nice to see everyone helping out." What a great community spirit!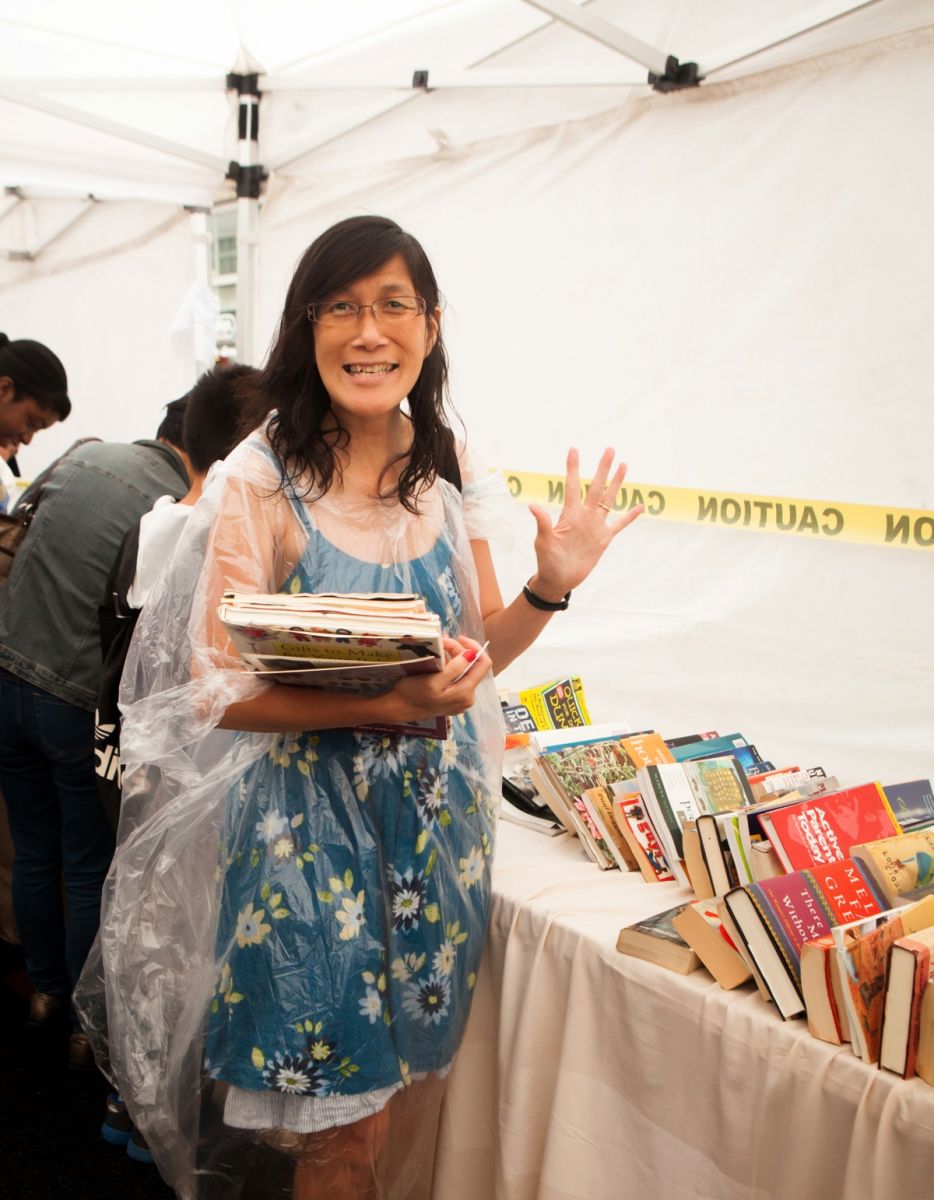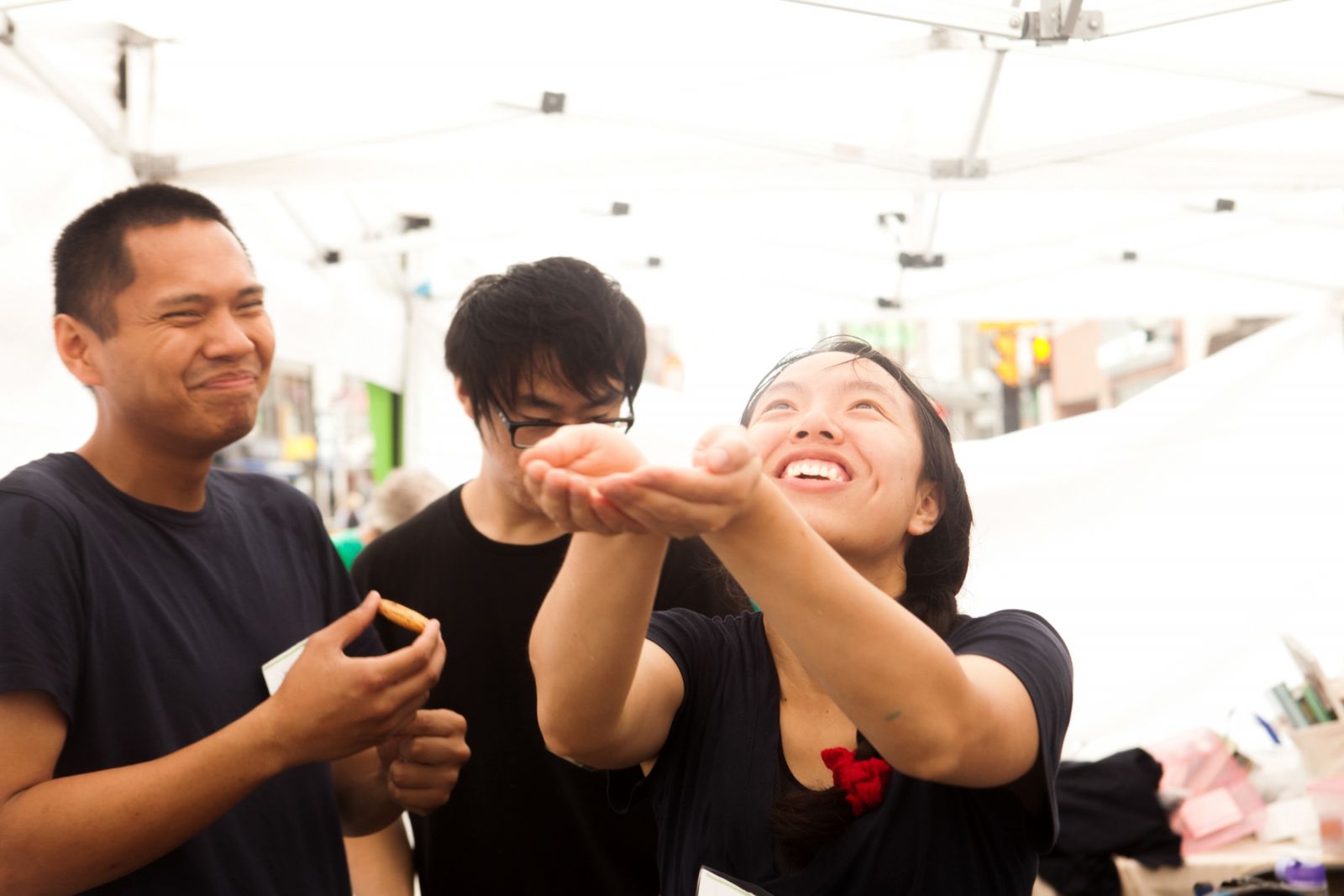 And speaking of our volunteers, we can't sing their praises enough. Legendary as they always are, they kept the crowd positive and energized even through the heaviest downpours of the day.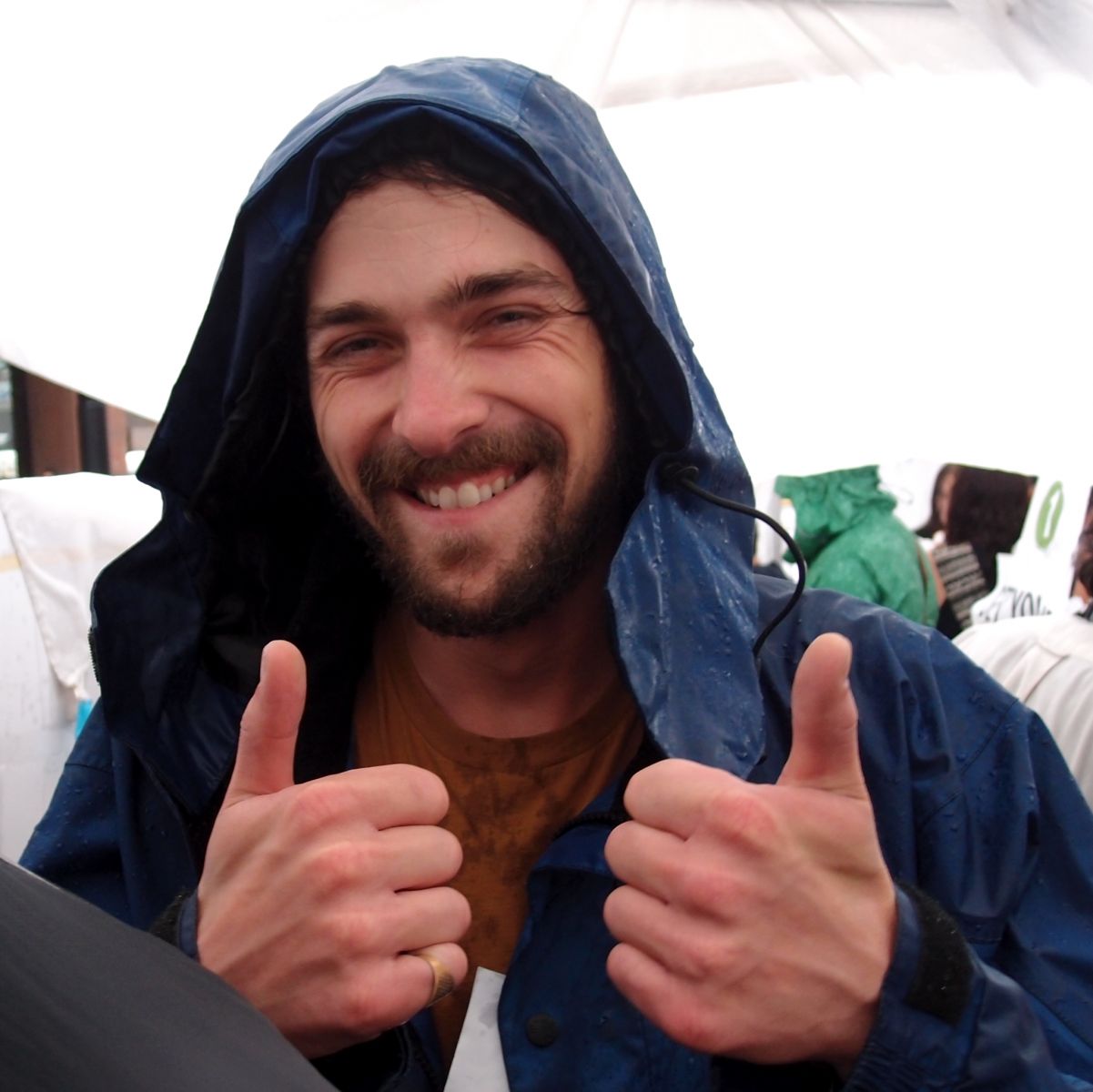 "The most common thing I heard from swappers was how happy they were to get so much new stuff," comments Maresah, another volunteer. "One swapper in particular came back four times, and every time he checked out he would say 'Thank you! This is great!' and 'Look how much stuff I got!' His contentment was truly phenomenal to see and made the experience all the more wonderful for me as a volunteer."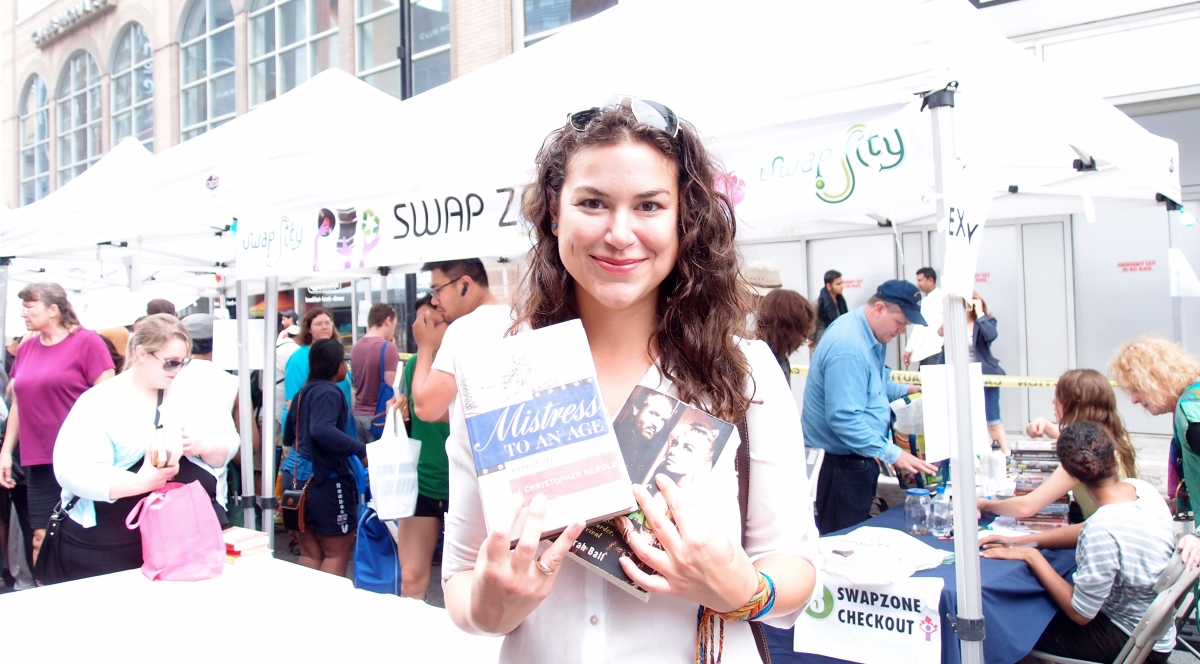 Laura, a fellow volunteer, concurs: "I think the best reactions are from the people who are hearing about Swapsity for the first time. I talked to one lady who was so excited, she said she was going to go home to start swapping [online] all her nice clothes that no longer fit her. Everyone always goes away smiling after they hear about how Swapsity works."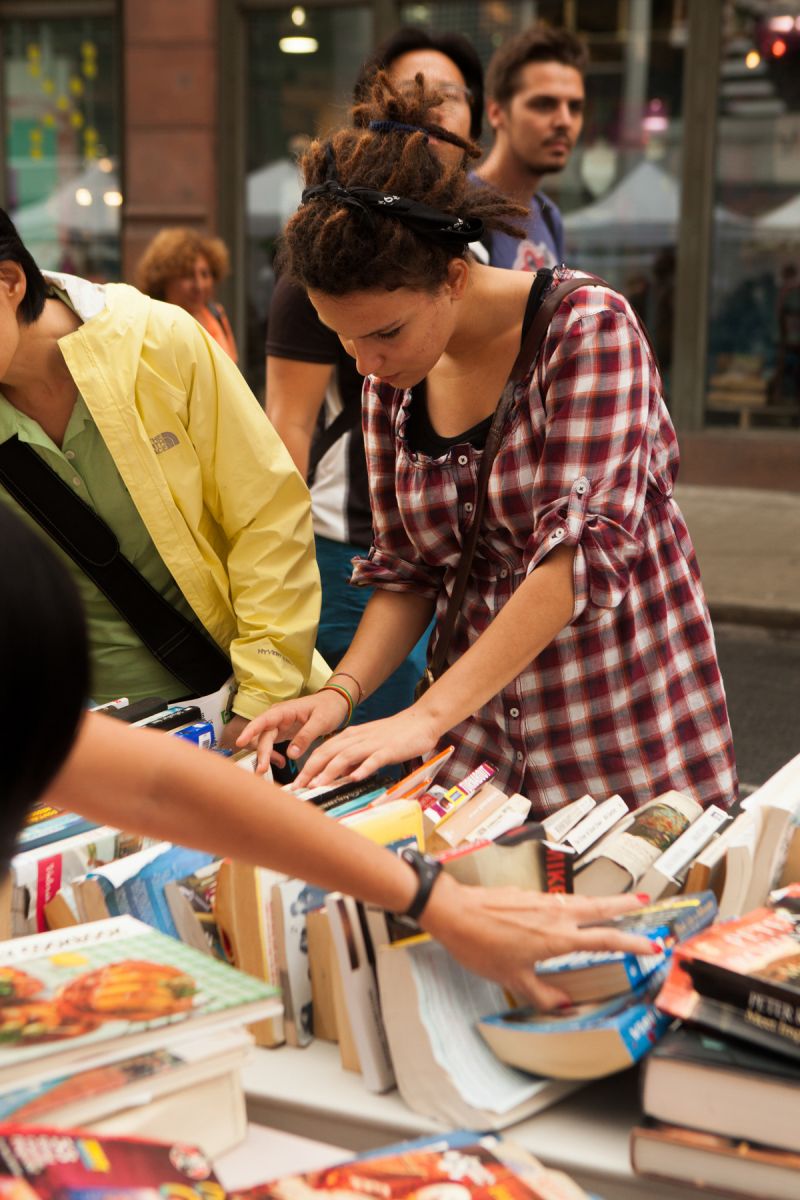 As the popularity of the Swap Zone exceeded our expectations and allocated space, we ended up rearranging the Swap Zone to accommodate the influx of swappables and visitors. Anything to help our swappers out!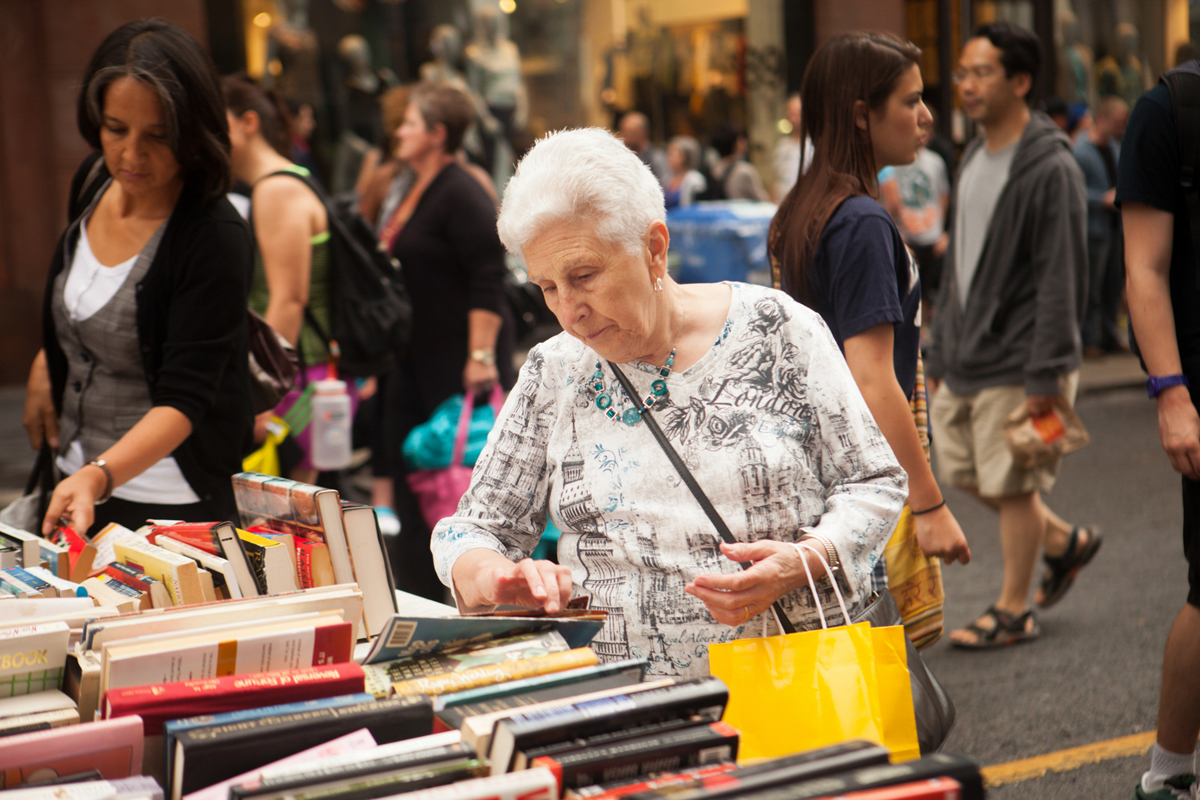 Swappers also tweeted us with pictures of their stacks of new treasures, and you know we love to see that. Tamarah, who is a familiar face at the Swap Zone, found a ton of awesome CDs, including No Doubt, Our Lady Peace and Oasis. Tim, on the other hand, stocked up on books, like the classic To Kill a Mockingbird and the more recent hit, The Kite Runner. Another swapper brought 150+ items and happily left with the same!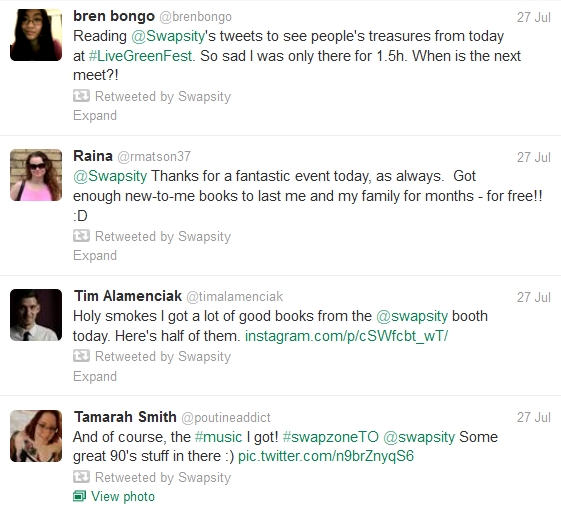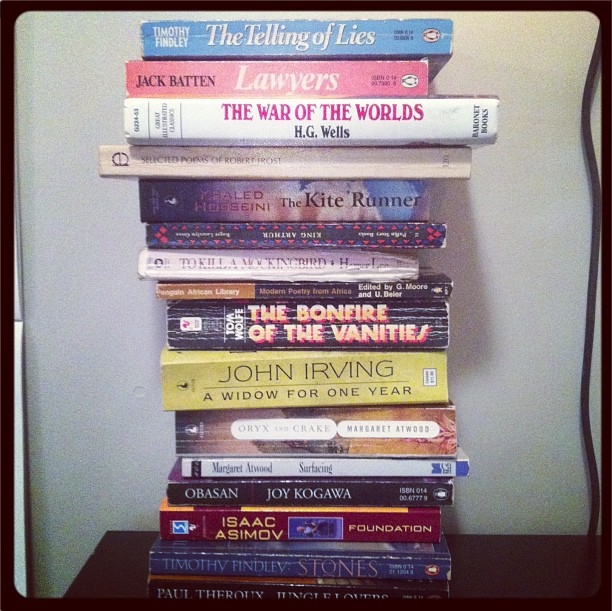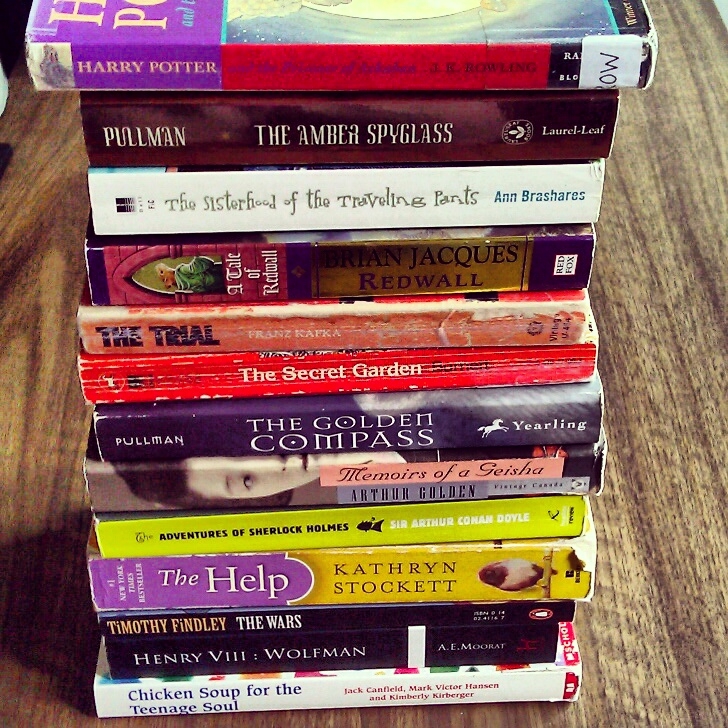 A huge thank you to all the wonderful swappers who came by! You had us stoked from the moment we opened up the tents that morning. Thank you as well to the volunteers whose energy, commitment and time makes the Swap Zone a roaring success every single time. You rock! Special thanks to the swap-savvy Bettina Bogar Photography for beautifully capturing swap moments at the Swap Zone and Dyann Jackson who bartered with us for videography. And thank you to the Live Green Toronto Festival organizers who have worked with us for the last three years to make the Swap Zone possible for all of you. Your event is a highlight of the year for us!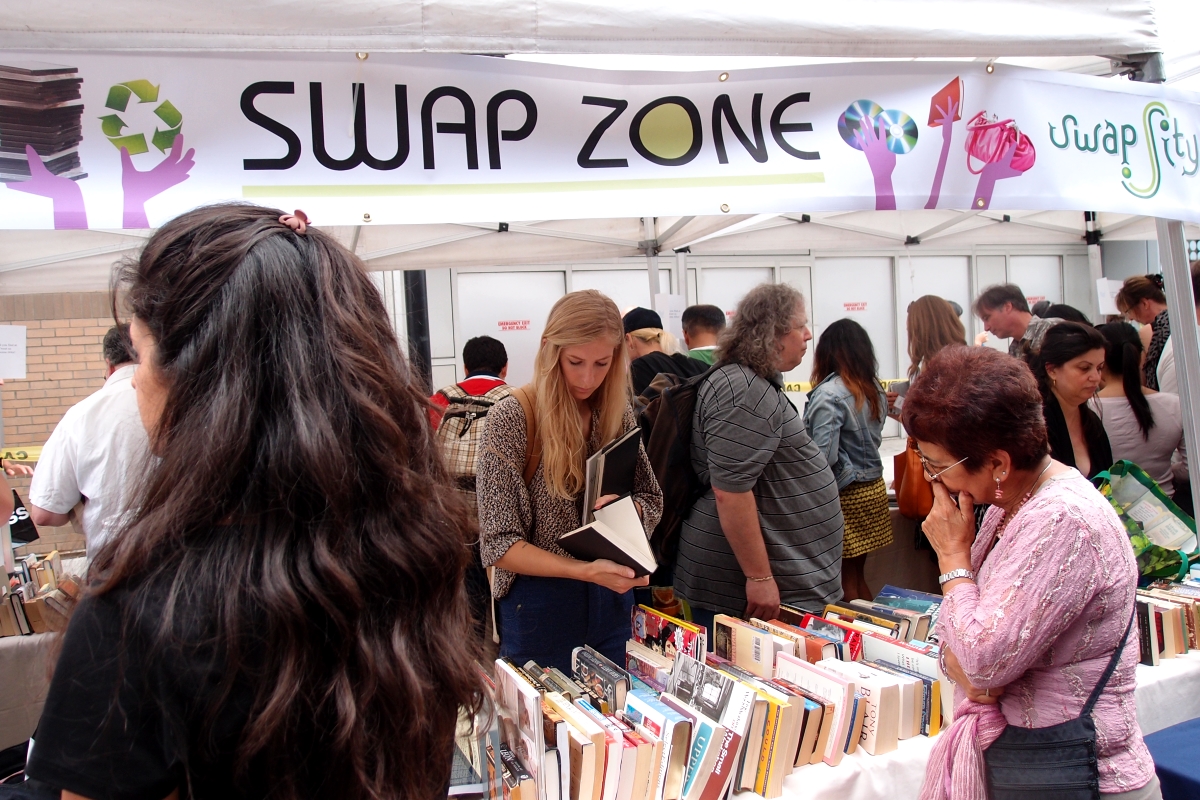 Did you miss out this time? Stay in the know by signing up for the Swap Zone mailing list and you'll never miss out again.
Until next time, we hope to catch you swapping online!